---
The Carson High Safe Grad Safe & Sober 5k has become an annual tradition held on the first (or second) weekend of February; this year the race will be held on March 17th allowing a children's dress up contest. This 5K run/walk is the only fundraiser put on by the Carson High Safe Grad Booster and we rely solely on local businesses to sponsor the 5K as well as donate great raffle prizes for the event. We typically rely on about 40 volunteers to run the event the day of and the goal every year is over 100 participants (runners/walkers). The event is held at the Carson High School with starting/finishing line at the CHS track facility.

SIGN UP!
Race day is March 17, 2018 at 10:00am
Registration: $30 till 2.20.18
$20 18 and younger
Late Registration : After 2.20.18- Fee above per
category plus $5 processing fee
(no T-Shirt guarantee)

Children's St. Patrick's Dress-Up Contest
Ages 2-6 / 7-12 / 13-18
Contest will be held immediately after race
on the Carson High Football Field
Pre-Registration is required
Check-in Time: 8:30-9:30 am
the day of the race.
Prizes -
Ages 2-6 McDonald's Gift Card
Ages 7-12 Yogurt Beach Gift Card
Ages 13-18 Dutch Bros Gift Card
1 winner in each category
Questions please email race.safegrad@gmail.com

---
SPONSORSHIP!
Envision the benefits to having your business' name on over 100 moving billboards, advertisement in Safe Grad media outlets along with race day promotion. Because that is what your sponsorship of Carson High Safe Grad Booster 5k Run/Walk is, PROMOTION OF YOUR BUSINESS!! Your company and logo will be featured on the back of our race t‐shirt along with every avenue of promotion available to us. Advertising is available through our race "swag" bag by adding your coupons, business cards, flyers, whatever you want to promote your business in the race package that each runner/walker receives. Prior to the event there will be ample space along the course for signage or banners that you would be willing to provide. The Carson High School Safe Grad 5K offers an outstanding combination of promoting your business and supporting students in our community in staying safe and sober on their graduation night.
Sponsorship is $250 and includes your company name and logo on race t-shirt and all race material. Your name and logo on Carson High Safe Grad website and Carson Safe Grad Facebook account as a race sponsor. A product sample, coupon or brochure that you provide included in our participant 'swag bag' given to all runners/walkers. If you choose to provide a sign/banner, it will be prominently displayed at the race. Sponsorship also includes two (2) race entries for your business.
If you are interested in sponsoring this event or need general information about the next race, please email
race.safegrad@gmail.com
.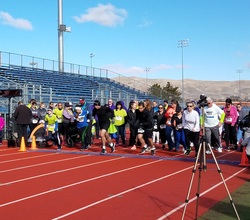 2017 Office Race Results (February 11, 2017)19 and over
Male - Angel Andraca
Female - Carson McFadden
18 and under
Male - Kai Miller
Female - Erin Cartier
Overall race results can be viewed here

---

2018 5k Run/Walk Raffle Donations
Animal Park -4 VIP Passes
Anytime Fitness -6 week workout / 1 month Gift Certificate
Bike Habitat -2 Bike Tun-ups
Blue Zone -Surprise Package
Boomtown Steakhouse -$100.00 Gift Certificate
Carson Hot Springs -(4) 2 pass gift cards
Dutch Bros - Gift Basket
Empire Ranch Golf Course -2 Rounds Golf
Gold Dust Casino - Room package
Hot August Nights - Gift Basket
Kona's Island Massage - Massage Gift Certificate
Mt Rose Ski Tahoe- 2 Pack Ski Lift Tickets
National Air Races -2 Season Rsrvd Passes, including 2 pit passes, rsrvd prkng Sept 12-16, 2018
Purple Avocado - $20 Gift Certificate
Reno Aces - 4 Infield Tickets
Reno Big Horns-2 Club Seats Attire Package
Reno Little Theater -2 tickets "The Curious Cas of the Watso Intelligence" May 4-20
Team Sports Link -2 Carson High Sweatshirts (1wm 1mn)
Tradder Joes - Gift Basket/Bag
Tupperware - Gift Basket
Yogurt Beach - Gift Card
Send snail mail race entries and sponsorships to:
Carson High Safe Grad Booster
PO Box 486
Carson City, Nevada 89702