Safe Grad 101:
What every parent (and graduate) needs to know!

---
What is Safe Grad?
Safe Grad has been a tradition for Carson High since 1988, started by community volunteers, after a series of graduation incidents and deaths related to alcohol. The main goal is to prevent the use of alcohol and drugs and the consequences, including driving drunk, for graduates or others who might be hurt. The new graduate can also see how much fun they can have when they take responsibility and celebrate without alcohol and drugs. This event is a congratulations for the graduates and a showing of how much the community cares about them completing their education. This, in most cases, is the last chance for some graduates to get together and celebrate their accomplishment. Safe Grad is a parent and community sponsored all-night party that begins the evening after graduation at the Carson City Community Center. Once inside the Community Center, graduates will experience a variety of fun and safe activities including food, music, entertainment, games and other activities during the all-night party. After breakfast, graduates who have paid the trip fee will load onto buses and head to Six Flags Discovery Kingdom in Vallejo for an exciting day at the park.
When is Safe Grad?
June 9, 2018 - Graduation night: 8:30pm – 5:30am
June 10, 2018 - Six Flags Trip: 5:30am - midnight
Check in is strictly between 8:30pm and 10pm. Doors close PROMPTLY at 10pm....no one is allowed in after this point and anyone who has paid for the trip and shows up after 10pm will not be admitted nor be refunded their $50. Those that wish to go to Six Flags MUST check-in by 10pm and stay the entire night.
Who is organizing Safe Grad?
Safe Grad is a booster organization of parents and volunteers. Many of us have children that have attended, are attending, or will be attending Carson High School. If you are interested in becoming a part of the organizing team, please email
carsonhighsafegrad@gmail.com
. We would be happy to have you join our team!
Who can attend?
Only 2018 graduates of Carson High and Pioneer High schools may attend the party.
What cannot be brought into the event?
Alcohol and drugs are not permitted at the all-night party. The Carson City Sheriff's office has deputies on site that will complete a thorough bag check at the door. This is a safety procedure for all students as our mission is to have a safe and sober graduation party.
What is the dress code?
High School Dress Code will be followed.
Can my graduate leave before the end of the event?
Yes, but once they leave, they may not return to the event at the Community Center under any circumstances. Safe Grad will make every effort to see that graduates are not leaving and returning and that only people permitted to attend will be at the event. Raffle prizes are given out starting at 11 pm, the longer the graduates stay the more likely they are to win. Unfortunately, parents will not be notified that graduates are leaving. It is also suggested that you make plans to pick your graduate up over having them drive themselves home at midnight on Sunday after two very long days of activities.
PLEASE NOTE: If a graduate leaves the event before the morning, they will not be refunded their $50 for the Six Flags trip.

How can I help?
There are many opportunities to help. You can volunteer to help the night of the event, you can help the day of the event with set up, or you can donate a tax deductible gift to help fund the event. You can also encourage your graduate to attend the event with their friends. We have typically had a successful turn-out of graduates (close to 80%) attend Safe Grad in years past. In order to accommodate and monitor the night's activities, we need roughly
100 volunteers
for the night which include three shifts: 7:30 pm-11:30 pm, 11:30 pm-2:30 am, and 2:30 am-5:30 am. We also need volunteers for a clean-up crew beginning as soon as the kids board the buses at 5 am.
If you would like to volunteer your time, please make sure you are signed up ahead of time by contacting our volunteer coordinator, Julie Slocum at
carsonhighsafegrad@gmail.com
.
How is this event paid for?
By generous donations (100% tax deductible) from the community and parents like you. If you would like to make a donation of something other than money, say a prize or food, please contact us at
carsonhighsafegrad@gmail.com
. Any and all donations are greatly appreciated by the committee and the graduates.
Wh
at kind of prizes are given out?
All prizes are gift cards that are donated by the community and p
arents like you and are geared towards the graduates. There are gas cards, movie cards, iTunes cards, food cards and so much more.
Will there be anything to keep the Grads entertained?
Our goal is keep the graduates engaged and entertained during the night so that they remain at the Community Center – safe and sober. There will be many fun activities that will be available to our students including Minute-to-Win It, a hypnotist show, and temporary sharpie tattoo artists.
Will there be food at this event?
Yes, and we need lots of it! The food committee is hard at work putting together a menu and we rely on senior parents and our local restaurants to donate the majority of the food. So if you know someone who may be interested in donating, please let us know. We can use all the help we can get!
If your child has any allergies, food allergies or food restrictions, please email
carsonhighsafegrad@gmail.com so we can accommodate their needs.
Refunds?
We understand that circumstances happen and some things are out of our control - however, we have to plan for the Six Flag trip about two months before the event (reserving buses and purchasing tickets).
Therefore, those who pay for the Six Flags trip ($50) may not receive a refund beginning the week before the trip (as of June 4 forward).
As stated above, any graduate who has paid for the trip but shows up after the doors close, will not be allowed admittance nor receive a refund. Additionally, if a graduate leaves the event before the morning, they will not be allowed admittance back into the event nor receive a refund.
If you have extenuating circumstances that require a refund before this date, please email the committee at
carsonhighsafegrad@gmail.com
and we will contact you. Please include the reason for the request and your contact information.
What is the Memory Wall?
Parents and family of the class of 2018 submit posters with pictures of their graduate. These pictures can be pictures of the graduates at any given time, not just senior pictures. The posters are put up on the walls of the hallways of the Community Center for students to reminisce.
This is a popular space with the graduates so please try to make sure your graduate has a special poster (and believe us when we say the graduates look for their own poster!!).
Posters should be delivered to the Carson High School main office no later than a week before graduation. Those that submit a poster can pick them up in the attendance office starting Tuesday after graduation.
Poster size should be 11X17 - needs to be either a digital print out or a color copy. Copies can be made at Office Depot for around $.57 - please mention that it's for 'CHS Safe Grad' in order to get the best price. Examples below: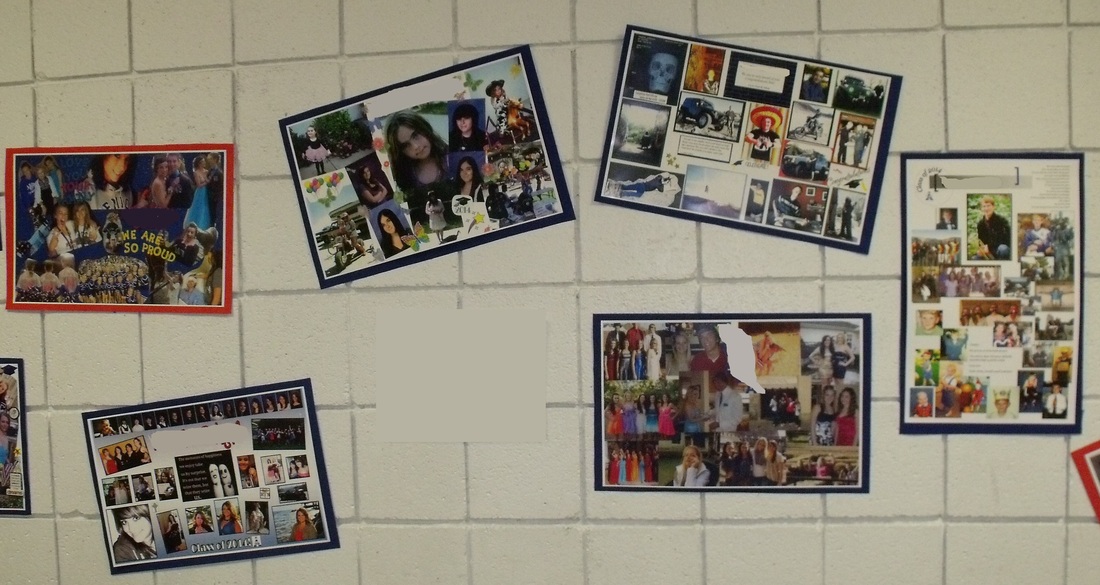 ---